Nanotechnology is a term that is everyday more and more used to talk about science and technology. Nanotechnology is the term given to those areas of science and engineering where phenomena that take place at dimensions in the nanometre scale are utilized in the design, characterisation, production and application of materials, structures, devices and systems. It is an extremely specific field which applies also in the car sector and, as a matter of fact, we are going to talk about nanotechnology protections for cars.
🚗 Read also: Car detailing: what is it and what services does it include?
Car body nanotechnology protection
Nanotechnology can be applied on the car body: first of all we are going to steam wash all the exteriors, then we proceed with our 3 step polishing service. In this way we prepare the surfaces before applying a nanotechnological protective layer which guarantees the maximum protection against atmospheric agents, dirt, polluting agents, UV rays and corrosive substances. The product that we use is our Exterior Nano Coat, which creates an oleophobic and hydrophobic protective layer that allows liquids and solid dirt to glide away. Moreover, our product makes your car body paint brighter than ever, protecting it from uv rays.

Rims and glasses protection
Moving on with the details, we have specific nanotechnological protections not only for the car body! For example, rims can be protected from the brake's dust which is the first cause for most of the dirt of this part. In this way, the next rims washes are way faster and easier. Regarding the glasses, we apply an hydrophobic product that guarantees a long lasting cleaned surface. In this way you wont' need to use windscreen wipers anymore, which are the number one responsible for scratches all over the glasses. Moreover, this nanotechnological treatment protects the crystals for limestone residues
Is there a nanotechnology protection for the car interiors?
While the nanotechnology for the car exteriors is well known, the nano for the car interiors is way less famous, but it can actually offer many advantages. Thanks to our specific products we are able to protect all kinds of materials and surfaces: leather, fabric and plastic. It creates an hydrophobic and oleophobic layer that guarantees a long lasting cleaned surface.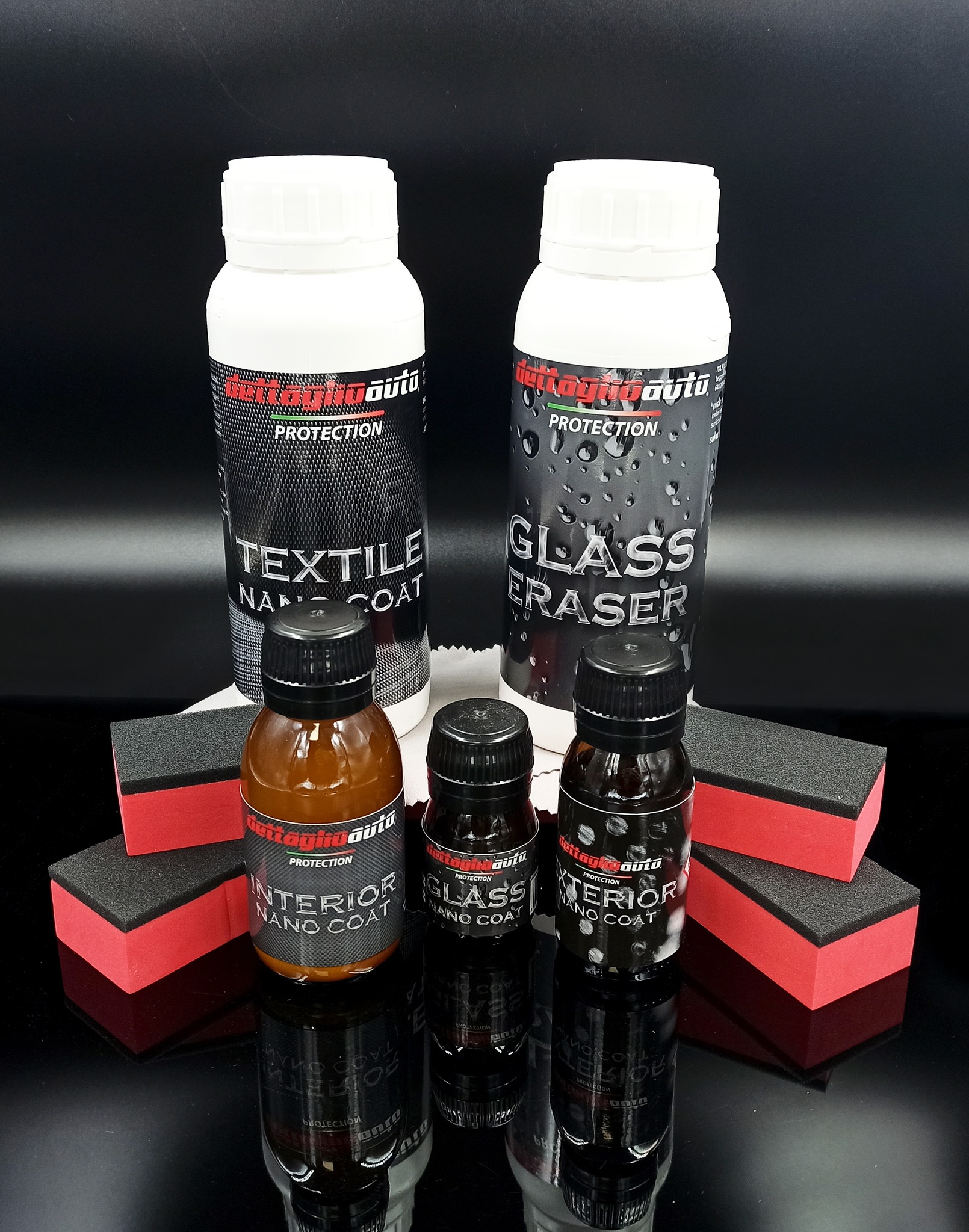 Do you want to learn more? Discover all our services or contact us to receive more information!